Who we are
Vigilis Tree Shelters manufactures traditional and plastic-free, soil-biodegradable tree shelters. 
We supply the UK markets with high-quality tree protection to support woodland creation, restoration, and highway projects. We also supply and distribute throughout Europe and the USA.
Our Vision
We envision a forestry industry free from plastic waste. By 2026, we aim to solely manufacture and supply biodegradable tree shelters. Sustainability is not only a moral duty but also a business imperative for the forestry industry.
Our Mission
Vigilis Tree Shelters provides innovative solutions to protect young trees and help them prosper. We are spearheading change across the forestry industry and have invested significant resources into research, development and innovation.

Vigilis currently helps reforestation efforts around the world by facilitating the survival and growth of saplings in challenging conditions. We are committed to safeguarding the future of trees and combatting climate change, one tree at a time.

Vigilis is in a unique position in the industry – we manufacture and supply biodegradable and polypropylene tree shelters straight to market. Therefore, we can offer competitive pricing, bespoke options, and short lead times on all our products.

<!—- Lark FCB Links and Downloads Block —-> <!-— Container Begins —->
Our Values
Sustainability
Striving towards a plastic-free and carbon-neutral future, pioneering change in the forestry industry. We minimize our environmental impact by using recycled and biodegradable materials, and by partnering with local suppliers and communities.
Innovation
Years of laboratory testing, research, field trials and investment in product development and the manufacturing process. We're innovating to guard the future of our forests.
Growth
In both the literal and metaphorical sense: growth of millions of trees and growth of the Vigilis brand. We are agile and fast-growing, ready to supply tree shelters faster and cheaper than our competitors.
Quality
We use durable materials and innovative designs to create tree shelters that can withstand harsh weather conditions and browsing animals.
Service
We provide excellent customer service and support, and we tailor our solutions to meet the specific needs and goals of each project.
Collaboration
Partnering with suppliers, customers, contractors, distributors & foresters across the globe.
Passion
Trees are pivotal to the planet and for mitigating climate change. We are passionate about supporting trees to grow and thrive by protecting them with the best possible tree shelters. We are keen to educate on the importance of reforestation and future-proofing the planet.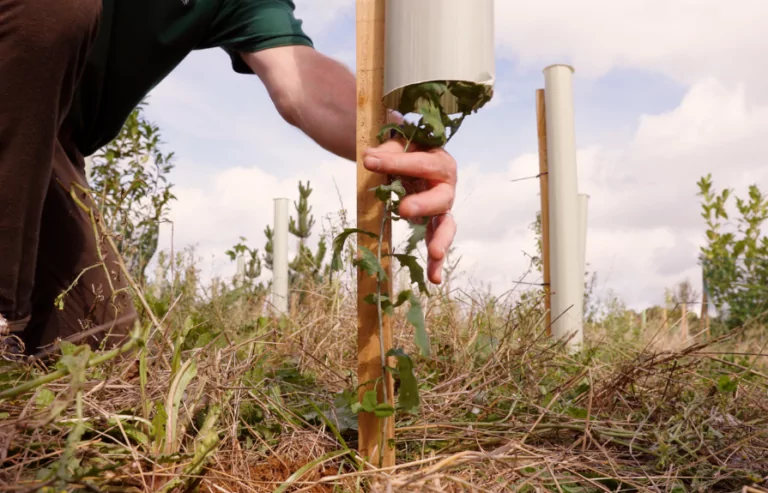 Why Vigilis?

Our Viligis tree shelters have been specially designed to protect trees efficiently and effectively. Therefore, we chose the name Vigilis: derived from the Latin word for a guard or sentry.

Utilising our unparalleled industry experience, the Vigilis team have designed and manufactured a tree shelter that can double – if not triple – the height of a young sapling over five years. At the same time, the tree produces fewer side branches inside a Vigilis tree shelter, improving timber quality and accelerating the cropping of both vines and fruit trees.

Alongside our traditional tree shelter range, we have designed, manufactured and brought to market a truly innovative tree shelter – Vigilis-Bio – that retains the performance and productivity benefits of traditional tree shelters but without the environmental burden of persistent plastics at the end of life.

Our Vigilis-Bio Tree Shelters are made from a special blend of bio-based derivatives (potatoes, wood and corn) and a custom biodegradable polymer. They will biodegrade in the soil and do not need collecting. 

<!—- Lark FCB Links and Downloads Block —-> <!-— Container Begins —->

Don't just take our word for it
"We were looking for a more affordable, alternative tree shelter that performed the same in the field as what we have been accustomed to using. Vigilis has met that need perfectly"
David Coleman, Shenandoah Habitats
"Vigilis are thoroughly efficient and professional. They are always a pleasure to do business with. Speedy response to enquiries, clear quotations and orders are dispatched on time with a good tracking system. Thank you for your excellent service – keep up the good work!"
Richard Perkins , Mill Farm Trees
"Very helpful in our time of need of a quick delivery. Responsive, helpful and efficient. We will certainly be using Vigilis for future projects"
Forest Manager
Let's talk tree shelters
Get in touch with us to see what we can do for you
If you'd like to become a Vigilis partner, drop us an email