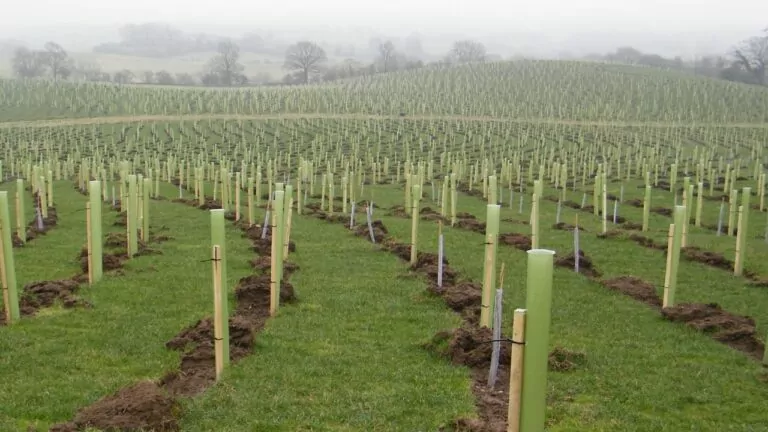 Forestry Is Vital To The Economy & Environment
The forestry industry is vital for the economy and the environment. Providing benefits such as timber, rich variety of habitats, biodiversity and recreation. As such an essential market, enhancement of tree growth is pivotal.
This is why Vigilis Tree Shelters offers suitable products that can protect young trees to enhance their growth and survival. Vigilis tree shelters are made of durable and biodegradable materials that can withstand harsh weather conditions and reduce plastic waste.
Vigilis tree shelters are the best choice for foresters who care about quality and sustainability.
Problems & Benefits
Protection from browsing pressures
Tree shelters shield young trees from destruction or damage by herbivores such as rabbits, hares and deer. Young trees would be an attractive and easy nutritious meal for these animals if unsheltered.
Repeated weed control
Weeds compete with newly planted trees for the nutrients, water and sunlight, often growing much faster than new saplings and overgrowing them. An extremely successful management tool is repetitive use of herbicide sprays. These sprays can cause great damage to a tree, so providing shelter to avoid contamination, loss of sapling and money is important.
Weather condition
With extreme climate fluctuations, the environment can be tough for young trees. As we are providing a microclimate to maximise growth, the tree shelters protect trees from harsh weather conditions in their early days to help establish strong root systems and trunk developments.
Solution
Vigilis Tree Shelters offers a range of protection solutions to optimise tree establishment. We manufacture and supply standard, vented and biodegradable tree shelters to suit your requirements.
Let's Talk Tree Shelters
Get in touch with us to see what we can do for you